B&B Spoilers: Steffy Fantasizes About Liam, Can't Control Her Passion?
The Bold and the Beautiful (B&B) spoilers tease that human waffle king Liam Spencer (Scott Clifton) loves his ex Steffy Forrester (Jacqueline MacInnes Wood) and is telling anyone who will listen, including her dad Ridge Forrester (Thorsten Kaye). Liam's story is that he was a fool to ever let Steffy go, and he's sticking to it.
Will his ardent determination finally sway Steffy now that she's living apart from her husband John "Finn" Finnegan (Tanner Novlan)?
The Bold And The Beautiful Spoilers – Steffy Forrester Loves John "Finn" Finnegan
Steffy cannot be with Finn while he is hugging it out with his biological murderer mom, Sheila Carter (Kimberlin Brown).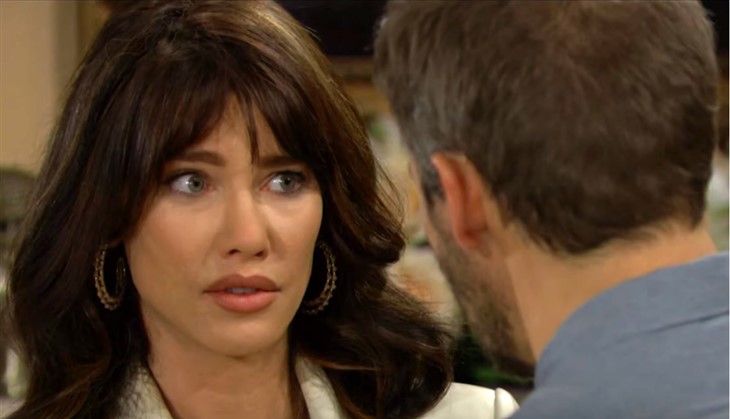 Finn swears he will choose Steffy over Sheila but actions speak louder than words. At this delicate time in Steffy's life, Liam is playing on her emotions, reminding her daily of the love they once shared.
Steffy has mostly listened to him and told him he is not to kiss her again, but she is vulnerable even though she just told him to leave the Forrester mansion while she sorts out her life.
B&B Spoilers – Liam Spencer Loves Steffy Forrester
Steffy may have consciously rejected Liam, but the unconscious has a curious way of popping up in the most inconvenient ways.
According to B&B spoilers, Steffy may have a dream or daydream in which she lets her true feelings about Liam take over.
The show likes to have characters indulge in a fantasy life as a way of foreshadowing what is about to happen.
Take for instance Hope Logan (Annika Noelle) daydreaming like mad about FC designer Thomas Forrester (Matthew Atkinson).
The Bold And The Beautiful Spoilers – Steffy Forrester Daydreams About Liam Spencer?
Hope spent a lot of time fantasizing about Thomas before their fateful trip to Rome. Once there, Hope could no longer rein in her emotions and kissed Thomas in front of the Colosseum, which Liam witnessed.
That was the end of their marriage and curiously, Thomas has been AWOL for days now—what happened to their unstoppable passion?
Will Steffy go down a similar route with Liam and start to have uncontrollable fantasies about her ex?
August Sweeps is far from over, and show spoilers tease that Steam could be in for a forbidden moment or three!
Be sure to catch up on everything happening with B&B right now. Come back here often for The Bold and the Beautiful spoilers, news, and updates.