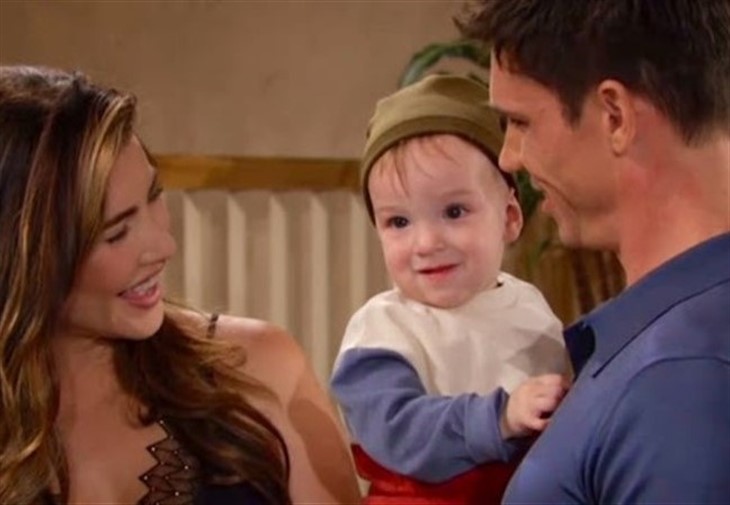 The Bold and the Beautiful (B&B) fans think Hayes should ask for a paternity test once he's old enough. This has to do with the current situation involving his parents Steffy Forrester (Jacqueline MacInnes Wood) and Dr. John "Finn" Finnegan (Tanner Novlan). His mother Sheila Carter (Kimberlin Brown) is now out of prison. Finn has slowly accepted his mom back into his life again, which could destroy his marriage. Keep on reading to learn more.
The Bold And The Beautiful Spoilers – Hayes Should Take Paternity Test
Some Bold and Beautiful fans believe that Hayes should seek paternity when he's old enough. The question about his paternity was brought up on the Soap Central forums.
Sheila shared that she wants Finn and Hayes in her life. One user wrote, "I'm thinking it's time for Hayes' sake to change his paternity."
Maybe Hayes should seek a paternity test. Even though it was confirmed that Steffy's baby belonged to Finn, it's possible that there was a mix-up with the test results.
Even B&B fans still have questions. Some wonder if baby Hayes should change his paternity for his own safety. Finn could go to the dark side after letting his mom back into his life.
The Bold and the Beautiful fans took to the thread to share their thoughts. Some aren't sure if Finn will go to the dark side, but he could make a mistake that could impact his marriage to Steffy.
He might Sheila as a nanny to watch their kids. She might hire someone else who will keep a close eye on them and snatch Hayes.
"I think for Finn's sake, it's time to change both paternity and maternity of Finn… Fix that mess instead…" one fan wrote. "I hope it happens. A Steam reunion and that Hayes is Liam's son!" another noted.
B&B Spoilers – Is Hayes Liam Spencer's Son?
Some Bold and Beautiful fans have speculated whether Hayes is Liam's son. Either way, Liam Spencer (Scott Clifton) could adopt Hayes as his son.
It's similar to when Hope Logan (Annika Noelle) adopted Thomas Forrester's son Douglas Forrester (Henry Joseph Samiri).
She considers herself Douglas's mom. Liam could do the same. However, it could cause a fight between him and Finn.
The B&B spoilers suggest they will have a face-off during the week of July 24th. Finn admitted to Laim that he has a problem with him being around Steffy given their history.
What are your thoughts? Do you think Hayes should take a paternity test when he gets older? Or, do you think he should change his paternity?
As always, check back for more B&B spoilers, news, and updates.