Sister Wives Power Duo Feature On TLC Spinoff
When Sister Wives fans saw that Christine and Janelle Brown both left Kody Brown, they assumed the show would end and they hoped for a spinoff of the two women. Well, the execs at TLC decided to keep the show going although Kody only has one wife left; Robyn. Meri also announced that she left her spiritual husband. Well, there is one spinoff, and a power duo will feature in it. So, what is the good news? Read on to find out.
Sister Wives Spoilers – Janelle & Christine Brown Spinoff?
TLC fans wanted to see Janelle and Christine traveling around the USA in her RV, exploring their independence and having a barrel of laughs. However, it didn't work out that way. Instead, Christine went to Utah and became engaged to David Woolley. Meanwhile, Janelle did go off in her RV and explored various places this summer. But they will get together for a spinoff. Just that it won't be an adventurous one.
Sister Wives fans already know that Christine landed her own spinoff, Cooking With Just Christine. Actually, there have been several seasons. It's not massively popular but plenty of enjoy watching Kody's former third wife creating her favorite recipes. Often, the kids or other members of the family will join her. This week, the news arrived that Janelle will be with Christine for at least one episode.
Sister Wives Spoilers – The Power Duo
The news that the show returns was first shared by Christine on her Instagram. In her post, Christine said, "Who's hungry? ? Christine is back with a new season of #CookingWithJustChristine! ? New episodes drop every Sunday, beginning August 20th, on @TLC's Facebook page, YouTube channel, and TLC.com!" Later, Janelle shared that she will also be in it.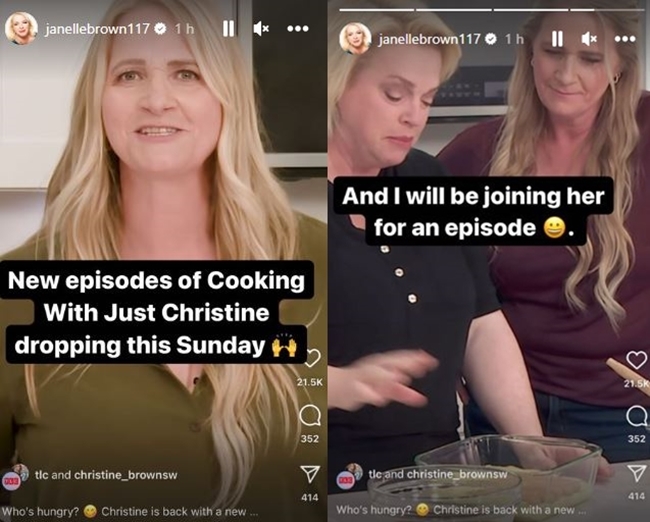 Sister Wives fans really seem keen on the new season of the main show. Already, a trailer dropped that revealed Janelle telling Kody to shut his mouth and sit down. And, she used delightfully naughty language to do so. Meanwhile, it seems that at least 99 percent of TLC fans are rooting for Christine who famously kicked her polygamous husband to the curb. So, the episode with both women will probably be very popular.
Sister Wives Spoilers – Will You Watch Cooking With Just Christine With Janelle In It?
Sister Wives fans might feel disappointed that it seems like Janelle will only be in a single episode with Christine. However, it also seems like a great idea to put the power duo together. Do you agree? Will you tune in to see it go down? Shout out in the comments below.
Be sure to catch up on everything happening with Cooking With Just Christine right now. Come back here often for more Sister Wives spoilers, news, and updates.