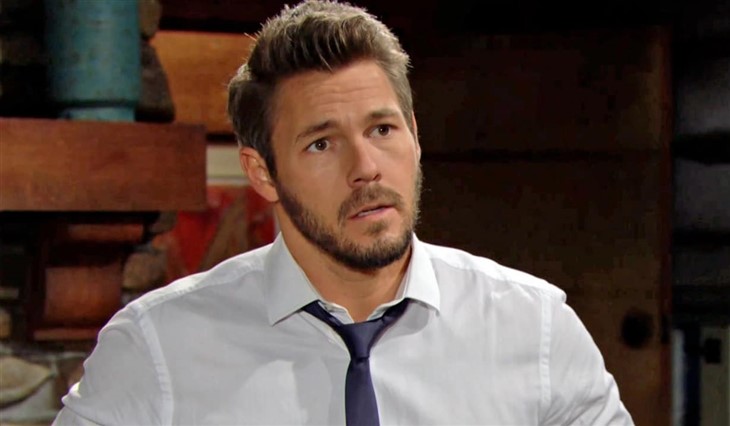 The Bold and the Beautiful spoilers reveal Liam losing his mind over the fact that Hope may actually have feelings for Thomas, but he has been losing his mind for weeks.
The Bold And The Beautiful Spoilers – The Same Old Liam Song
For the last few months, it seems that every time we see Liam Spencer (Scott Clifton), he is whining to someone about the fact that Hope Logan Spencer (Annika Noelle) and Thomas Forrester (Matthew Atkinson) are working together.
He ordered Hope to refuse to work with Thomas but she defied him and did it anyway. Not only are they spending all this time together in LA, but they also recently spent time with one another in San Francisco.
So, Liam has been whining. Poor Wyatt Spencer (Darin Brooks) has had to hear his whine-fest over and over again during meals and during work hours in which Liam neglects to work.
He reinforces his brother's animosity towards Thomas, gives the exact same advice every time, and nods his head.
At least when Dollar Bill Spencer (Don Diamont) hears Liam whine, he tells him to at least fight for his marriage because he doesn't want his son to end up alone like he is.
BB Spoilers – Steffy Forrester Had It With Liam Spencer's Sob Story
Steffy Forrester Finnegan (Jacqueline MacInnes Wood) just couldn't take it anymore and essentially told Liam to shut up and stop bad-mouthing her brother, so she told him maybe he needs to look to his wife to see where the problem is. She has feelings for Thomas now and not the other way around.
Steffy was all of us when she told Liam how she felt. She just wanted him to stop, but will likely not get her wish. Little does Steffy know that Liam whines about her and her family as well.
He whines about Steffy to Wyatt, Bill, and even Brooke Logan (Katherine Kelly Lang). Then, he runs to Steff's house hoping she will stroke his ego and forgetting she has her own family and is pretty much done with him.
Now that Liam has decided he is going to whine to Hope about Hope's apparent feelings for Thomas, will he finally end up with nobody left to talk to? Or, in Liam's case, whine to. Stay tuned to The Bold and the Beautiful weekdays to see Liam whine some more.