GH Spoilers Tuesday, August 15: Molly And TJ's Meeting, Portia Pushes Curtis, Chase Put On The Spot
General Hospital (GH) spoilers for Tuesday, August 15 indicate Molly Lansing-Davis (Brooke Anne Smith) and TJ Ashford (Tajh Bellow) will have an important meeting.
Portia Robinson (Brooke Kerr) will push Curtis Ashford (Donnell Turner) to cooperate with her. Gregory Chase (Gregory Harrison) will put Harrison Chase (Josh Swickard) on the spot and more.
General Hospital Spoilers – Molly Lansing-Davis And TJ Ashford Move Forward
General Hospital Spoilers TJ and Molly host an important meeting. Molly and TJ have decided to move forward with the search for a surrogate and they want anyone but Kristina Corinthos (Kate Mansi) currently.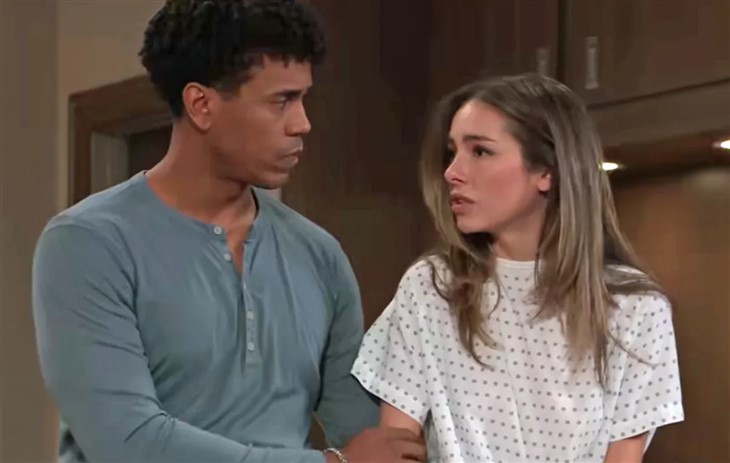 After talking with the agency and arranging to get a list of surrogates, Molly and TJ will meet with a prospective candidate.
Of course, Kristina kicked around the idea of volunteering to be their surrogate but Molly and TJ believe Kristina would ruin the experience for them.
Will this candidate be the right fit for Molly and TJ or will they begin to lean toward asking Kristina for help? Would it be so bad to at least use Kristina's egg since the baby would be genetically related to Molly?
GH Spoilers – Gregory Chase Puts His Son On The Spot
Portia puts her cards on the table. Curtis has been trying to push Portia out of his life since he found out he may not be able to walk again.
However, Portia is not willing to let her husband roll himself out of her life. Portia has loved this man for years and wants a future with him and their daughter. Will Curtis come to his senses and allow his family to be there for him?
Gregory puts Chase on the spot. Gregory loves his son and wants to be a part of their lives. However, Gregory also believes that he is dying from ALS.
Gregory may just want to see his son happy before he leaves this world and will push for answers about Chase and Brook Lynn Quartermaine's (Amanda Setton) relationship. Will Gregory get the answers he is looking for?
General Hospital Spoilers – Dex Heller Must Scramble To Save Himself
Ava Jerome (Maura West) seeks reassurance. Ava is terrified about the situation with Nanny Betty (Ella Lentini). Sonny Corinthos (Maurice Benard) claims to have things under control but Avery Corinthos's (Ava and Grace Scarola) life is at stake.

Can Sonny truly handle this situation and save Ava and Avery from Austin Holt (Roger Howarth) and his boss?
Dex Heller (Evan Hofer) has to scramble. Dex has been following the nanny around and reporting back to Sonny.
However, it seems that Dex may be spotted and needs to save himself. Austin already knows that Dex has been lurking around his office. Could Mason Gatlin (Nathanyael Grey) or Austin try to take Dex out?
Be sure to catch up on everything happening with General Hospital right now. Come back here often for General Hospital spoilers, news, and updates.