GH Spoilers Thursday, August 10: Doubts And Fears, Sudden Solutions, Flirtatious Friends
General Hospital (GH) spoilers and updates for Thursday, August 10 tease doubts and fears, sudden solutions and flirtatious friends.
Portia Robinson's (Brook Kerr) doubts turn into fears, Sam McCall (Kelly Monaco) shares a sudden solution, and Carly Spencer (Laura Wright) fends off a flirtatious friend!
General Hospital Spoilers – Doubts And Fears
Portia leans on Marshall Ashford (Robert Gossett) as her doubts turn into fears. Portia can scarcely believe her ears when Marshall doesn't back her up on Curtis Ashford (Donnell Turner) moving back to their house.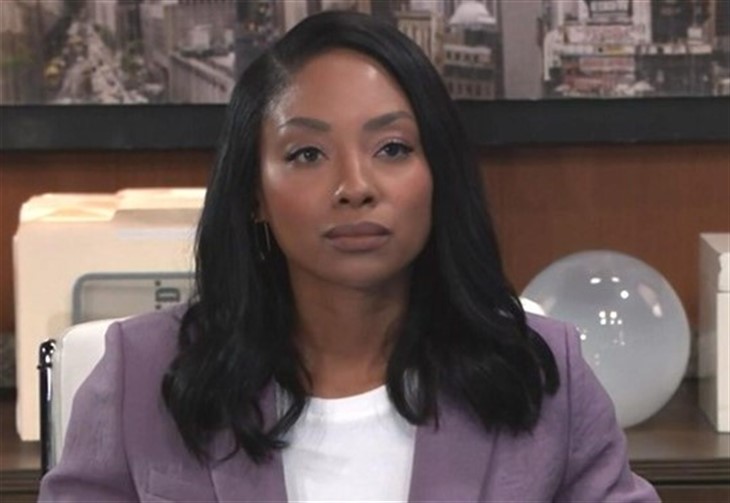 Curtis doesn't want to move back to the house, he's scarcely even wanting to move to a rehab facility where he will get physical therapy.
Portia has been expecting Marshall would be able to convince his son that he needed to move back home so Portia can take care of him. But it looks like that's the opposite of what might happen.
GH Spoilers – Curtis Ashford Gets A Visitor
In his room at the hospital, Curtis gets a visitor he appears to be glad to see-apparently it's a doctor. He tells the visitor he guesses he or she is not there for a medical reason.
Since Portia is at home talking to Marshall, it could be Curtis' old friend Hamilton Finn (Michael Easton).
They've been friends even longer than Curtis and Drew Cain (Cameron Mathison) since it was Curtis who tried to track Hayden Barnes (Rebecca Budig) down when she disappeared the first time. That was when
General Hospital Spoilers – Kristina Corinthos-Davis Impresses Mom
Elsewhere, Kristina Corinthos-Davis (Kate Mansi) impresses her mom, Alexis Davis (Nancy Lee Grahn) but not before Alexis makes sure she's not burning the books!
Kristina looks like she's either going to or coming from a workout, hair in a ponytail on top of her head and wearing sweats.
Perhaps she impresses her mom with not having had a meltdown when she interrupted TJ Ashford (Tajh Bellow) and Molly Lansing-Davis' (Brooke Anne Smith) talking to a surrogate service representative.
The way Kristina usually is, that was impressive; TJ and Molly may have even passed on their being impressed to Alexis. Kristina had seemed to have her heart set on being their surrogate.
GH Spoilers – Dante Falconeri And Anna Devane Work On A Theory
Elsewhere, Dante Falconeri (Dominic Zamprogna) and Anna Devane (Finola Hughes) work on a theory.
Dante asks Anna if she thinks Pikeman had to do with the attempt on her life. Now they know that Pikeman and the WSB are connected, it seems to make sense. But as far as who the sniper was, that's still something they're working on to get leads.
General Hospital Spoilers – Sudden Solutions
Sam comes up with a sudden solution for Maxie Jones (Kirsten Storms) who'll think it's an enticing offer.
Recently, Dante took Charlotte Cassadine (Scarlett Fernandez) to see Lulu Spencer (most recently Emme Rylan) and it brought up that big empty house.
No one is living in the house that Dante and Lulu once shared with Charlotte, at least part time, and Rocco Falconeri (Finn Francis Carr).
Perhaps it would be a perfect solution for Maxie and her three kids to move into-she and Lulu were best friends, so certainly Lulu would have approved. It's probably better that someone lives there than to just leave it unoccupied.
GH Spoilers – Flirtatious Friends
Elsewhere, Carly finds herself fending off a flirtatious friend when it looks like Eddie Maine (Wally Kurth) has cornered her.
Eddie asks why would anyone betray a beautiful woman like her? Carly clearly looks uncomfortable, especially since his wife Olivia Quartermaine (Lisa LoCicero) is her best friend.
Carly knows that he took off somewhere and Olivia hadn't known where he went, should she try to keep him occupied and call her?
General Hospital Spoilers – Trina Robinson Reconnects With Curtis Ashford, But He Needs Help!
At GH, Trina Robinson (Tabyana Ali) has come to see Curtis, but catches Finn in the hallway and needs his help! Has something gone wrong, did Curtis try and get up and fall on the floor? Trina looks very worried and urgently needs Finn's help, and it looks like it has to do with Curtis.
Perhaps a fall might convince the stubborn Curtis that he needs the physical therapy. Or, it might completely dissuade him from trying, which is what Marshall had tried to encourage him to do!
Be sure to catch up on everything happening with GH right now. Come back here often for General Hospital spoilers, news, and updates.