GH Spoilers: Nina Stops Gladys In Her Tracks, Redeems Herself In The Interim
General Hospital (GH) spoilers suggest that it's only a matter of time before Gladys Corbin (Bonnie Burroughs) gets found out.
She's scheming hard to ensure her guardianship over daughter-in-law Sasha Corbin (Sofia Mattsson) stays intact.
Sasha's been acting weird since being on the pills her court-appointed therapist (and Gladys's co-schemer) Dr. Damon Montague (Darin Toonder) has prescribed. But, Gladys has also been acting odd. Will Nina Reeves (Cynthia Watros) put two-and-two together and stop Sasha's mother-in-law before it's too late?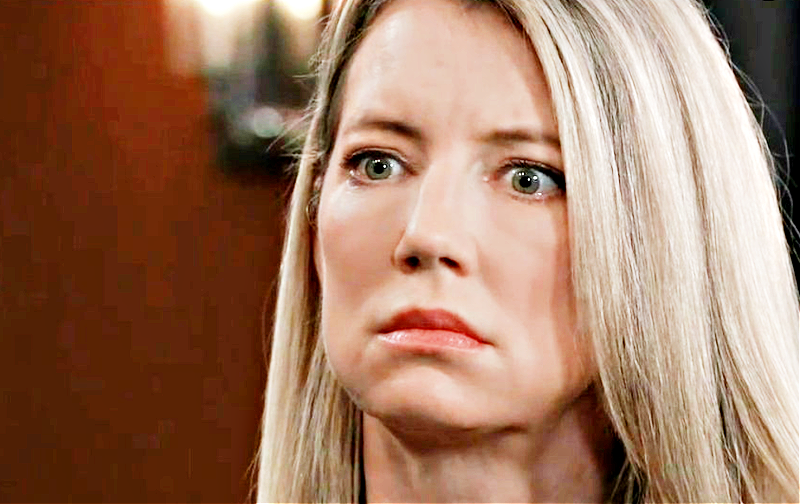 GH Spoilers: Nina Reeves Is Definitely Suspicious
GH spoilers for the week of July 24th hint that Sasha will battle old demons. Added teasers also note that Nina will score points with bio daughter Willow Tait-Corinthos (Katelyn MacMullen). Willow and Sasha are close, so if Nina figures out what Gladys is up to and brings her down, Ms. Tait-Corinthos will certainly see her in a new light.
At the end of the day, both Nina and Maxie Jones (Kirsten Storms) know something's not right with Sasha, and they are quite suspicious of Gladys. In fact, Reeves recently warned Corbin against exposing her daughter-in-law during her court case.
Perhaps by working together with Jones (or simply doing it on her own), someone can bring a stop to what Sasha's mother-in-law is doing.
GH Spoilers: Bringing Down Gladys & Saving Sasha Will Look Good On Nina
Much like everyone in Port Charles, Nina has quite the past. Recent incidents that have yet to be discovered also place a bad spotlight on Reeves; however, if she's able to bring Gladys down, not only will Sonny and Willow be grateful, but she'll have a continued fan and friend in Sasha.
The two have always had a mother-daughter friendship, and protecting the young lady against her mother-in-law's schemes will only solidify their bond. Plus, when the "Neddie" and SEC chips end up falling, Nina will still have an ally in Sasha.
Will Nina be the one to bring Gladys down? Comment, below. Don't miss a moment of the popular ABC soap to see what happens next and visit this site daily for the best General Hospital news, spoilers, and updates.