GH Spoilers Friday, May 19: Taking Charge, Pertinent Questions, Bold Moves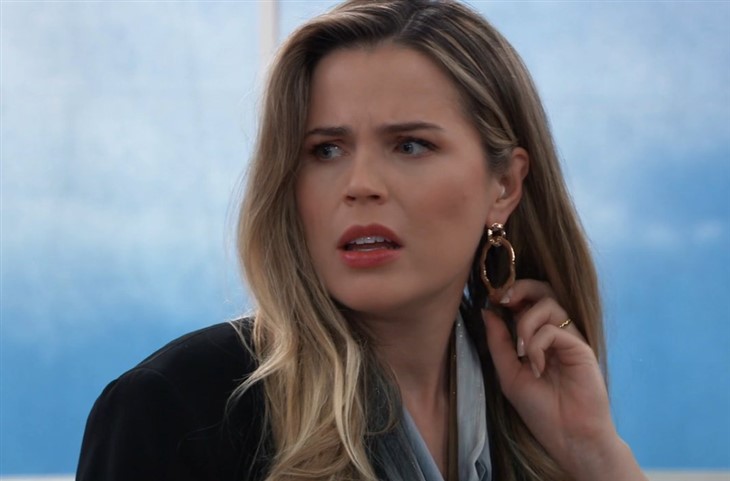 General Hospital (GH) spoilers and updates for Friday, May 19 tease taking charge, pertinent questions and bold moves! Sasha Gilmore's (Sofia Mattsson) taking charge of her life again, Dante Falconeri (Dominic Zamprogna) asks pertinent questions, and Gladys Corbin (Bonnie Burroughs) makes bold moves!
General Hospital Spoilers – Taking Charge
Sasha updates her former fake mom Nina Reeves (Cynthia Watros) on what's going on in her life-she happily proclaims she's taking charge of her life again. She's ready to end the guardianship that Brando Corbin (Johnny Wactor) started and Gladys took over and handle her own decisions and money. Nina looks proud of Sasha, who successfully came through the best-or should that be the worst-efforts of Haven DeHavilland (Morgan Fairchild) to sabotage her for ratings.
Sasha still doesn't know about Cody Bell's (Josh Kelly) backstage rescue, where he threatened to streak across the TV set on live TV! It may have gotten them ratings, but probably kicked off of the shopping network-they don't sell "those kind" of products!
GH Spoilers – Scott Baldwin's Surprise
Scott Baldwin (Kin Shriner) has cornered Liesl Obrecht (Kathleen Gati) at Kelly's, trying to win her back. She shuts her eyes but it doesn't look like it's out of anticipation, it seems to be more out of frustration. Scott has some kind of surprise for her and tells her he doesn't want to ruin it. He probably shouldn't say anything about suing the WSB to make up for his calling the drone strike that almost took her and many others out. But it did get rid of Victor Cassadine (Charles Shaughnessy) once it was able to be diverted, Spencer Cassadine (Nicholas Alexander Chavez) barely making it off The Haunted Star alive!
General Hospital Spoilers – Surprise Interrupted?
Cody also meets with Scott and he may interrupt Scott and Liesl at Kelly's as he tells someone "maybe we can do something about that". He and Cody had previously discussed suing the WSB over the destruction of the Ice Princess necklace, which had been worn by Dominique Stanton (Shell Danielson) Cody's mother. It was stolen by Cesar Faison (Anders Hove) apparently, since Peter August (Wes Ramsey) left it to Britt Westbourne (Kelly Thiebaud). Since they bombed the Haunted Star and sunk the necklace to the bottom of the ocean, they should pay damages split between Cody and Serena Baldwin (Carly Schroeder). But before Faison stole it Leopold Taub (Chip Lucia) stole it and Cody would have to be his son to inherit it-there may be problems!
GH Spoilers – Pertinent Questions
Dante talks to Michael Corinthos (Chad Duell) at General Hospital and he has some pertinent questions about Michael giving up his vendetta against Sonny Corinthos (Maurice Benard). Dante asks if that is what Willow Corinthos (Katelyn MacMullen) wants or is it what he wants? Michael had invited Sonny to their wedding and didn't turn him away from his grandchildren, although Nina wasn't invited. Willow had known about the vendetta and the planned turnover to the Feds, and talked him out of it.
General Hospital Spoilers – Bold Moves
Gladys makes a bold move and struts into Pozzulo's and tells Dex Heller (Evan Hofer) and one of Sonny's bodyguards to take a number, it's family first and she's seeing Sonny. She's on her first day as Selina Wu's (Lydia Look) "spy" on Sonny and she's likely being set up.
The spy job is an "in kind" payment to Selina for all the money she owes her. She might be so busy spying that she won't be able to get into Sasha's accounts as a backup!
GH Spoilers – Josslyn Jacks Has A Request For Sonny Corinthos
Well, someone who Sonny also considers family is ahead of Gladys, and that's Josslyn Jacks (Eden McCoy) who has a request for Sonny. Apparently Sonny has given Josslyn an offer of some sort and she tells him she's about to take him up on it. Josslyn didn't want Dex to leave town and didn't want to break up with him, but didn't want him to keep working for the mob with Sonny either. Sonny must be giving her some kind of viable option so the two star-crossed lovers don't have to break up.
General Hospital Spoilers – Marcus Taggert Advises Portia Robinson
At GH Marcus Taggert (Réal Andrews) advises Portia Robinson (Brook Kerr) after he, Trina Robinson (Tabyana Ali) and Curtis Ashford (Donnell Turner) got their DNA test done. Portia complains to Taggert about Jordan Ashford (Tanisha Harper) doing something on purpose-she could be talking about something happening when Trina was captive on the Haunted Star; she'd tried to interfere. There had been some words between Jordan and the rescue crew bound for Greenland, thinking somehow she had the main jurisdiction.
But that's nothing compared to her doing something on purpose at The Savoy, where she went looking for Curtis, who asked if he'd made a mistake doing the DNA test. Little does she know that Jordan's making sure Curtis doesn't return to Portia!
GH Spoilers – Pretty Plotter
Jordan had pulled Curtis into a mutual clinch and a passionate kiss by squeezing his hand and gazing into his eyes, like a pretty plotter! It looks like Curtis and Jordan are ignoring his marriage to Portia and giving into their still living passion for one another. Curtis is clearly caught up in their past romance as he tells her "come on, let's get out of here".
Might this lead to Taggert and Portia remarrying after all these years if Jordan and Curtis do? Curtis is more supportive of Trina and Spencer Cassadine (Nicholas Alexander Chavez) and maybe that would give him an edge if he didn't go through with cheating on her mom!
Be sure to catch up on everything happening with GH right now. Come back here often for General Hospital spoilers, news, and updates.