General Hospital Spoilers: Spencer And Ava Save Nik Together?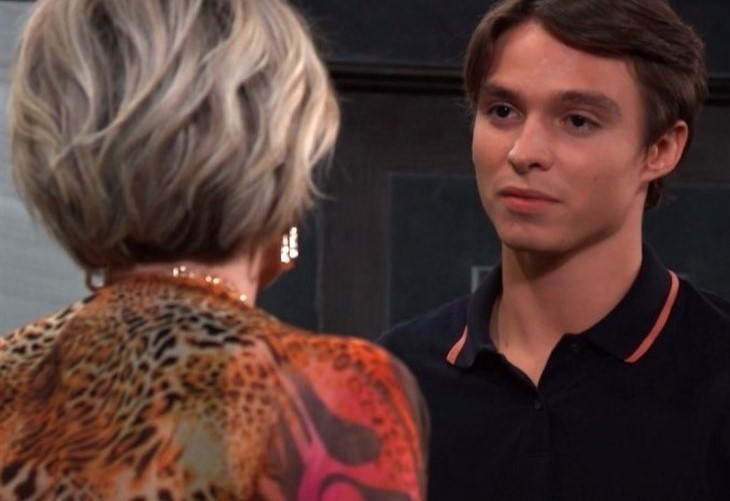 General Hospital spoilers hint Nikolas Cassadine (Adam Huss) has been missing in action for more than a month now. Ava Jerome Cassadine (Maura West) doesn't know much more than anyone else does about his whereabouts. She knows Mason (Nathanyael Grey) is planning to hold Nikolas over her head, and she's hoping she can bring that hostile situation to a head soon.
However, when Spencer Cassadine (Nicholas Chavez) gets wind of Mason's stronghold over Ava, he just might try to swoop in to help. When he learns it has something to do with his father, Ava won't be able to get him to back off.
General Hospital Spoilers — Mason Teases Ava
Pretty soon, Ava is going to have a hard time getting away from Mason. His intent is to rattle her so badly that she will do anything to get rid of him — much like he did with his cousin, Austin Gatlin Holt (Roger Howarth), in the past. General Hospital spoilers show Austin is going to warn Ava that this is how Mason operates, and she shouldn't give in to his ways. However, that's easier said than done when he knows what she did and he has all of the evidence to prove it.
GH Spoilers – Suggest She's All Alone
It might feel like Austin is in her corner for a while, but Ava isn't going to feel like they're on the same team anymore when Mason seems to only be targeting her. Sure, it's Austin's unruly family member, but she's the one who can't shake him.
This is going to leave Ava equally as vulnerable to interference should someone else step up and decide they want to help her out of this situation. It might really spook her should Nikolas' uncle, Victor Cassadine (Charles Shaughnessy), come into the fold. Of course, he could be the very person ordering Mason around and holding a barely-there Nikolas hostage, too.
General Hospital Spoilers — Spencer Cassadine Steps Up To The Plate
When Spencer comes back around into Ava's orbit, it's going to be all too appealing to team up with him. He will be anxious to track down his dad, having felt so guilty since he learned that Esme Prince (Avery Kristen Pohl) was conning him all along and he's the one who let her into their family before she ripped them all apart from one another. He wants to find his dad and make things right, even if Nikolas doesn't want to come back to Port Charles and face what he's done.
Ava obviously isn't going to tell him why she's interested in tracking Nikolas down, but she won't say no to his help. Will they find him before things get worse and Spencer figures out what Ava has done? Stay tuned for more GH news and spoilers to find out.