Days Of Our Lives Spoilers: Xander And Maggie Talk, Will She Give Him A Job?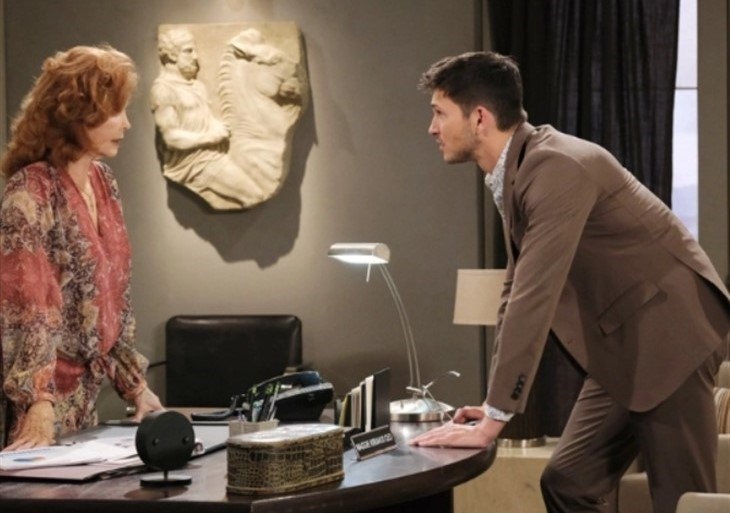 Days of Our Lives spoilers indicate that Maggie Kiriakis (Suzanne Rogers) has taken over as CEO of Titan Industries. Xander Cook (Paul Telfer) came by and asked Maggie for an interview for the Spectator. Maggie has also questioned Xander about the paper. Could Maggie offer Xander a job at Titan?
Days Of Our Lives Spoilers – Maggie Kiriakis Interested In The Spectator
Days Of Our Lives spoilers reveal that unlike Alex Kiriakis (Robert Scott Wilson) Xander came to visit Maggie with flowers and congratulations.
Maggie was truly thrilled to see Xander but she also seemed to have her interest piqued when he mentioned the Spectator's numbering being up. Could Maggie be considering buying the newspaper in place of Bella magazine?
Maggie could offer to buy the newspaper but allow Gwen Rizczech (Emily O'Brien) to continue to run it. If Titan buys that paper, Gwen would have money from that plus a salary. Xander could either work for the paper or somewhere else at Titan. However, Xander could never be as disrespectful to Maggie as Alex has.
DOOL Spoilers – Maggie Kiriakis Cares About Xander Cook
Maggie cares about Xander and wants what is best for him. Maggie is disappointed in Xander because of the things he has done. However, if Maggie had her way, Xander and Sarah Horton (Linsey Godfrey) would be back together. Maggie knows that Xander still loves Sarah and Sarah loves him as well. Sarah just doesn't feel she can trust Xander presently.
Maggie needs someone she can trust at Titan and Alex is beginning to question Maggie's judgment too much to suit her. If Alex keeps questioning Maggie's decisions she could be forced to fire him and she will need a new right-hand man. Even if Maggie doesn't buy the papers, she could persuade Xander to leave the paper and come to work with her.
Days Of Our Lives Spoilers – Xander Cook Could Prove Himself To Sarah Horton
If Maggie gives Xander a job, perhaps he could prove himself to Sarah. After all, Sarah is pregnant with Xander's baby and if he turns his life around, she may be convinced to come back to him. Maggie knows that Sarah needs some time to think things over. Maggie could also help Xander to improve his situation in the meantime.
Just imagine Sarah's reaction if Xander gets back on his feet and secures a home for them. Xander would have a legitimate job and a decent income.
Xander is working for Titan, there is no need for him to be tangled up with Gwen or people like Ava Vitali (ex-Tamara Braun). Will Maggie give Xander a job and help him to get his wife and child back?
Be sure to catch up on everything happening with DOOL right now. Come back here often for Days Of Our Lives spoilers, news, and updates.