Days Of Our Lives Spoilers: Stephanie Learns Her Mother Is Alive, Forgives Alex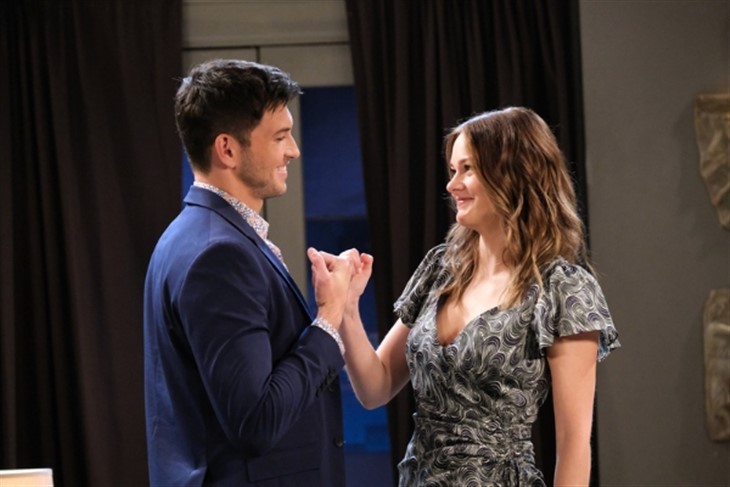 Days of Our Lives (DOOL) spoilers indicate between Chad Dimera's (Billy Flynn) reluctance to move on and Kayla Brady (Mary Beth Evans) turning up alive, Alex Kiriakis (Robert Scott Wilson) may get a second chance. Now that Kayla has turned up alive, could Stephanie Johnson (Abigail Klein) forgive Alex?
Days Of Our Lives Spoilers – Stephanie Johnson And Alex Kiriakis Had A Good Thing
Days Of Our Lives spoilers reveal that Stephanie and Alex had a good thing going until she missed saying goodbye to her mother. However, Kayla's return may prompt Stephanie to find some forgiveness for Alex in her heart. Kayla knows that her daughter loves her and that it wasn't her fault she didn't make it to the hospital.
Kayla is alive and well and may feel that Stephanie was a bit harsh. Of course, Kayla asked for her daughter at the time but she really didn't have time to get to the hospital anyway. Now that Kayla has the whole story, she realized that Megan's drugs may have helped things move along faster. Kayla also realizes that she would not have her brother back if this hadn't gone down this way.
DOOL Spoilers – Alex Kiriakis Was Truly Sorry
Alex tried to convince Stephanie how sorry he was that all of this happened. However, Stephanie didn't want to hear anything he had to say at the time. Alex is likely to seek out Kayla and tell her how sorry he was for what happened as well. Kayla may be inclined to take Alex's side at least for a little while. After all, Alex truly meant no harm.
Kayla also knows what true love feels like and she could sense that Chad I not really ready to move on. Chad has even expressed his hesitation to Abe Carver (James Reynolds) as well. Does Chad need to step back and decide for sure what he wants instead of going any further right now? Perhaps Chad is afraid he is doing this more for his kids than himself.
Days Of Our Lives Spoilers – Stephanie Johnson Never Go Over Alex Kiriakis
Stephanie never gave herself time to get over Alex before jumping into bed with Chad. Yes, Stephanie was mad, and rightfully so. However, Stephanie didn't hate Alex, she was disappointed in him. Stephanie might not have even liked Alex at the time. Nevertheless, Stephanie should have sorted out her feelings before moving on.
Seeing Alex with someone new may bother Stephanie a lot more than she wants to admit. Alex has moved on with Gwen Rizczech (Emily O'Brien) at the moment but that doesn't mean it will last. If the rumor is true that Gwen is using Alex, that will end soon enough and may give Alex and Stephanie a chance to make things right. Will Alex and Stephanie try again?
Be sure to catch up on everything happening with DOOL right now. Come back here often for Days Of Our Lives spoilers, news, and updates.