Days of Our Lives Spoilers: Allie And Chanel's Lives Get Much More Compliated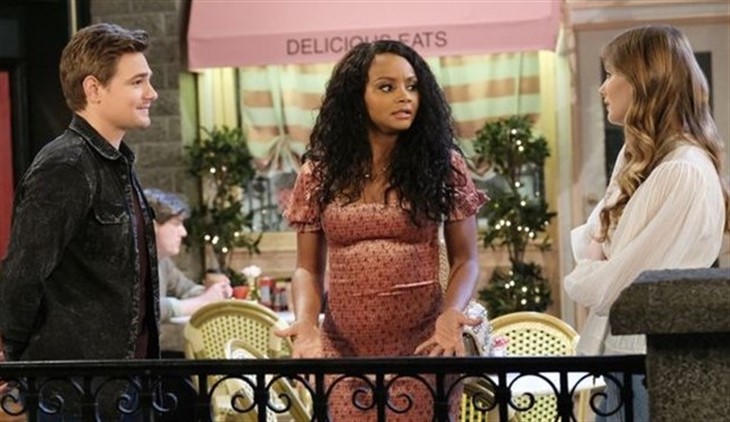 Days of Our Lives (DOOL) spoilers for Thursday, February 2, 2023, reveal Allie doing a stupid thing when Chanel might do the right thing.
Days of Our Lives Spoilers – Allie Horton Isn't Careful
Life has been iffy for Allie Horton (Lindsay Arnold) and Chanel Dupree (Raven Bowens)for weeks as Allie couldn't handle how close Johnny DiMera (Carson Boatman) and Chanel were growing. She thought it was truly over between them and has spent more time worried about that than her newly-dead grandmothers.
Allie is so unconcerned with what happened to Marlena Evans (Deidre Hall) and Kate Roberts Brady (Lauren Koslow) that she drowns her love life sorrows in boos and ends up in bed with Alex Kiriakis (Robert Scott Wilson). Unfortunately for the both of them, Wendy Shin (Victoria Grace) sees Alex leaving Allie's bedroom and now has another secret to keep — if she decides to keep it.
Meanwhile, Paulina Price (Jackee Harry) does her best to get Chanel to go home and make up with Allie. Will her words get through or is it too late?
DOOL Spoilers – Chad DiMera And Stephanie Johnson Take The Next Step
Now that Jack Deveraux (Matthew Ashford) has given Chad DiMera (Billy Flynn) permission to move on with his life, he decides he is going to go for it with Stephanie Johnson (Abigail Klein). She is no longer with Alex and doesn't want to ever see him again. Since Chad is the one she wanted in the first place, they are more than happy to start dating and see where this leads.
Will Chad's two young children like this idea or do they think that their dad and Stephanie are better off as just friends?
Days Of Our Lives Spoilers – Where Do Xander Cook And Gwen Rizcech Go From Here?
Jack has disowned Gwen Rizcech (Emily O'Brien) and Sarah Horton (Linsey Godfrey) is insisting on divorcing Xander Cook (Paul Telfer). That leaves both lonely souls… alone. When Xander and Gwen are alone, they usually end up together, so that's what they discuss on Thursday as they wonder what their futures hold.
Will Gwen ultimately end up with Xander after all or will she hold out for a man who wants her and only her? Stream Days of Our Lives weekdays on Peacock by 6 am EST to see how these stories play out.