Days Of Our Lives: Kristen DiMera & Megan Hathaway Meet In Prison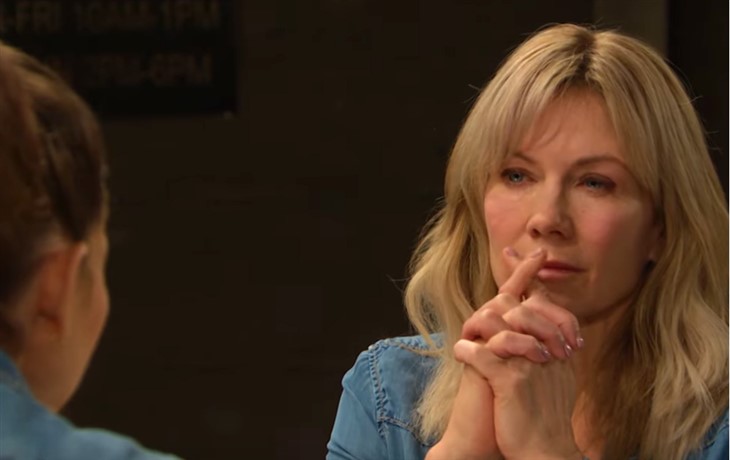 Days of Our Lives (DOOL) spoilers for the week of April 17th indicate that Kristen DiMera (Stacy Haiduk) will meet her newest prison mate in the days ahead, someone who also happens to be her long-lost sister, Megan Hathaway (Miranda Wilson). Actress Stacy Haiduk talks to Soap Opera Digest (SOD) about this encounter, which will likely turn into an iconic DOOL scene for years to come.
Days Of Our Lives Spoilers – Kristen DiMera & Megan Hathaway Try To "One Up" Each Other
DOOL spoilers suggest that upon their meeting, the two sisters will immediately have a chat. Well, Stacy tells SOD that their conversation won't be sisterly bonding, but rather, more of an attempt to "one-up" each other. As Haiduk says with a laugh, the two don't likely trust each other, but they will try their best to "work" together.
The topic moves to the fact that Kayla Johnson (Mary Beth Evans) is now missing, and Stacy reveals that Kristen will try and dig Megan for more information. Hathaway will do all she can to keep some of her secrets hidden from her sis, although Ms. DiMera will be persistent. As Haiduk notes, Kristen will work hard to get "the goods" on Megan. But will Hathaway cave?
DOOL Spoilers – Kristen DiMera Puts "Two-and-Two" Together About Bo Brady
Stacey tells SOD that Kristen comes to the realization that Bo Brady (Peter Reckell) could still be alive. Megan will neither confirm nor deny this fact. At that point, DiMera has a "light bulb" moment; if she tells Brady Black (Eric Martsolf) what she's found out, she may get access to her daughter, Rachel Black (Finley Rose Slater) once again.
Of course, Kristen rushes to the phone to call Brady stating she has some "interesting" information. But she's not willing to give it up without getting something in return. When Brady arrives at Stateville, Ms. DiMera makes it crystal clear that she wants a visit with her daughter in return for the "news" she has. Brady is skeptical but curious. Stacy notes that he tells her he'll ponder the proposition.
Days of Our Lives Spoilers – Sinister Sisters Unite To Breakout? Kristen & Megan Scheme
Ms. Haiduk goes on to tell SOD that after Brady leaves, Kristen feels as if she has some hope. With that said, Megan advises her to keep quiet about Bo. Stacy states that Megan reminds Kristen that if they work together, they could bust out of prison and run toward freedom, for good. This is ultimately what Ms. DiMera wants, but she'll struggle with the pickle she's in now, as she doesn't fully trust Megan or Brady.
If Mr. Black brings Rachel around, will Kristen tell Brady about Bo or side with Megan? Comment, below! What Days on Peacock daily to see what Ms. DiMera decides and visit TSV for all the latest DOOL news and spoilers.