B&B Spoilers: Taylor Is Ready To Be Noble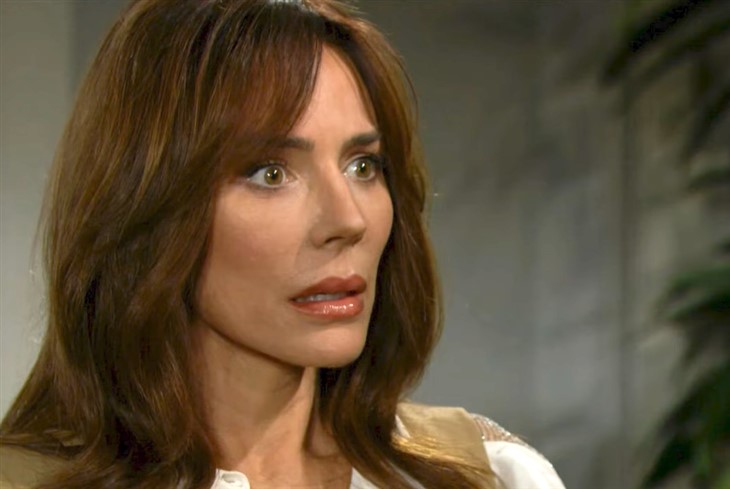 The Bold and the Beautiful (B&B) spoilers for Monday, January 30, 2023, reveal Taylor contemplating doing something that will change her life forever.
The Bold And The Beautiful Spoilers – Taylor Hayes Has Quite The Dilemma
Taylor Hayes (Krista Allen) is just sick about the idea that Sheila Carter (Kimberlin Brown) is walking free after all the horrible things she has done because of her. She was out of her mind with rage when she shot Dollar Bill Spencer (Don Diamont) years ago because she thought he had raped Steffy Forrester Finnegan (Jacqueline MacInnes Wood). She was horrified to learn she was wrong and Bill never turned her in.
Now, Bill is using that secret against her family to keep Sheila out of jail. For some reason, he is obsessed with and believes he is in love with her. He does not care if Taylor ends up behind bars as long as Sheila is not locked up again. Taylor knows all she has to do is tell the truth and this nightmare can be over for Steffy, John 'Finn' Finnegan (Tanner Novlan), and their children. However, this the absolute last thing that Steffy wants.
B&B Spoilers – Steffy Forrester Is Desperate To Stop Taylor
Knowing that Taylor wants to confess and clear her conscience, Steffy does her best to stop her mother. If Taylor tells the truth, Steffy will lose her just when they started growing close again and she can't let that happen. Her children need their grandmother in their lives and Steffy uses that to implore Taylor not to say anything and risk her freedom.
Oddly enough, Hope Logan Spencer (Annika Noelle) joins in on this although she has no stake in what's going on. Why is Hope even in this story when Sheila pays her no concern at all? Is her failing fashion line not enough for her? Why would she ever be involved with Steffy and Taylor's business? Is this because Taylor and Brooke Logan are suddenly BFFs?
Either way, both woman have their say and try to convince Taylor that there is no need to do the right thing. Sheila is bad so shooting Bill in the back shouldn't be a concern. Will Taylor listen to what the younger women have to say? Stay tuned to The Bold and the Beautiful weekdays to see how these stories play out.