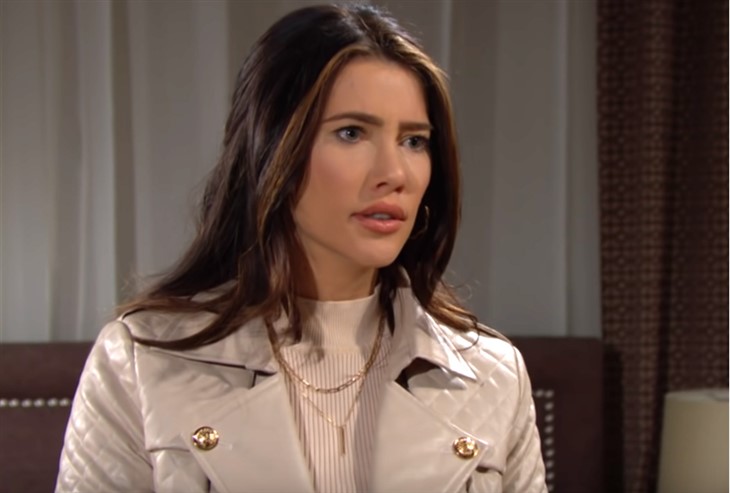 The Bold and the Beautiful spoilers hint that Steffy is deliberately trying to ruin Liam's marriage to Hope. Fans think she's up to no good once again. She confessed to Liam about Hope's true feelings for Thomas. Is this her way of trying to get back with Liam?
The Bold And The Beautiful Spoilers – Steffy Forrester Spills To Liam Spencer
According to the Bold and the Beautiful spoilers, Steffy Forrester (Jacqueline MacInnes Wood) spilled to Liam Spencer (Scott Clifton) about Hope Logan's (Annika Noelle) true feelings for Thomas Forrester (Matthew Atkinson). Hope warned Steffy not to tell Liam about what she saw between Hope and Thomas.
Steffy noticed something wasn't right. She noticed that Hope was flirting with Thomas. Steffy couldn't shake that image out of her mind. It's been bugging her ever since they were stuck in San Francisco together for the night.
Even though nothing happened, Steffy felt that it was important to tell Liam. She respects her baby daddy. But, does she respect his marriage to Hope?
In the meantime, Thomas has been doing so well lately. He's been on his best behavior. His work relationship with Hope has improved and their Hope for the Future line improved after it got bad reviews.
Hope needs Thomas as part of their design team. However, once Steffy told Liam about what she saw, he knew he had to confront his wife.
Liam even begged Hope to stop working with Thomas. Hope was offended and couldn't believe that Steffy told Liam.
She brought up their illicit past and said she's never done anything similar to jeopardize their marriage. Hope also made a tearful plea for Liam to believe her that she only has feelings for him only.
B&B Spoilers – Will Liam Spencer Come Crawling Back To Steffy Forrester?
According to the B&B spoilers, Liam could come crawling back to Steffy in no time. The fans already know that the writers love bringing them back together. Once Liam learns the truth about Hope's feelings for Thomas, he might cry in Steffy's arms.
Where would that lead Steffy's marriage to Dr. John "Finn" Finnegan (Tanner Novlan)? He already told Steffy that sharing that information with Liam is like "dropping a bomb" in their marriage.
He could be wondering what Steffy's true intentions are. The Bold and the Beautiful fans would hate to see "Sinn" suffer just because Steffy cares about Liam. Their marriage could implode from this as well.
What are your thoughts? Do you think is deliberately trying to ruin Liam's marriage to Hope? Or, do you think she's looking out for Thomas? Sound off below in the comment section.
As always, check back for more The Bold and the Beautiful spoilers, news, and updates.