B&B Spoilers: Ridge Fights To Protect Family – New Steffy And Thomas Drama
The Bold and the Beautiful spoilers document that Ridge Forrester (Thorsten Kaye) was trying to secure his family's safety by working with Bill Spencer (Don Diamont) to put Sheila Carter (Kimberlin Brown) away for good. That seeming slam dunk was blocked by a judge who felt the letter of subjective law should be followed.
The release of this soap opera's greatest villain created immediate reverberations in this version of Los Angeles, California. Ridge, who arrived with his almost-friend, Bill, was as outraged as anyone when Sheila was let go.
All of the above gave Thomas Forrester (Matthew Atkinson) cover. Normally, the start of his romance with Hope Spencer (Annika Noelle) would have been the top-shelf chat topic inside Forrester Creations. But Thomas and Hope have arguably lucked out through Sheila's latest escape from justice.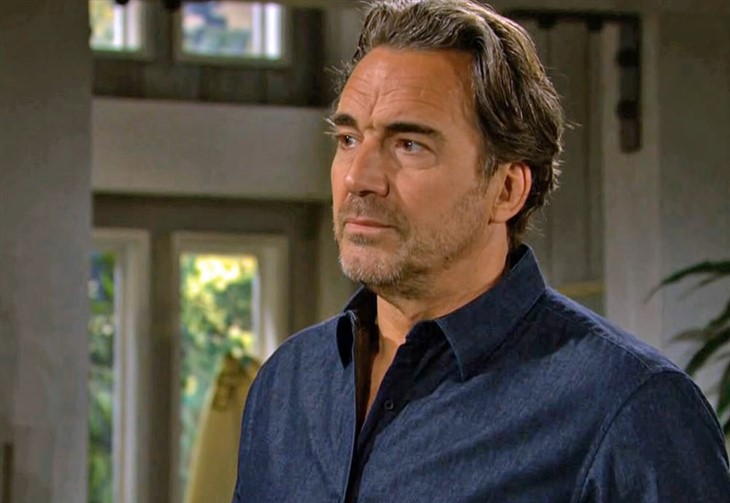 The Bold And The Beautiful Spoilers – Going Underground With A Ponytail
Kaye's character was not seen on screen for many weeks. Ridge was believed to be away, licking his emotional wounds after learning that supposedly sweet Taylor Hayes (Krista Allen) betrayed his trust.
Taylor learned about Thomas framing Brooke Logan (Katherine Kelly Lang) moments before the long-awaited remarriage to Ridge at the Forrester mansion. But the news was forced out during the ceremony which caused Ridge to halt it.
Ridge needed time to reconsider his love life and appeared to leave town. He went underground, grew a ponytail, and was working with Bill, who was undercover attempting to coerce a murder confession out of Sheila.
B&B Spoilers – Sheila Carter Drama Retakes Center Stage
Sheila is used to being in the spotlight. But she anticipated that her day in court with Judge Evan Scott (Michael Corbett, who portrayed David Kimble on The Young and the Restless, Warren Carter on Search for Tomorrow, Michael Pavel, Junior on Ryan's Hope, and Brent Cameron on One Life to Live) would result in a long sentence.
Instead of Sheila spending the rest of her life in jail, due to her murder admission, she was set free. The judge believed Sheila was trapped and that Bill's associations with the authorities were not right.
The result of Sheila facing no penalty for that action was compounded by Sheila and Finn being reminded that they refused to testify against her when they had a chance. That happened because Bill was playing a strategy, believing his trap presented the better pathway to keeping her in jail forever.
The Bold And The Beautiful Spoilers – Ridge Forrester Will Not Relent
Ridge, Brooke, and Taylor are reading from the same script when it comes to Sheila. They know what she did to them and their combined family in the past and plan to do whatever is necessary to try and prevent her from causing further mayhem.
But Ridge is back in the triangular quandary when it comes to Thomas and Hope's romantic connection. Taylor will back Thomas and Brooke will back Hope, which trends toward conflict.
Steffy sees Sheila as such a threat that she took her children and left John Finn Finnegan (Tanner Novlan) at the cliff house. That might be another storyline that provides additional cover for Thomas and Hope, as Ridge must focus on his daughter's newest drama first on B&B.
This site is a leading source for everything linked to The Bold and the Beautiful. Check back regularly for B&B spoilers and news!