B&B Spoilers: Hope Is Absolutely Livid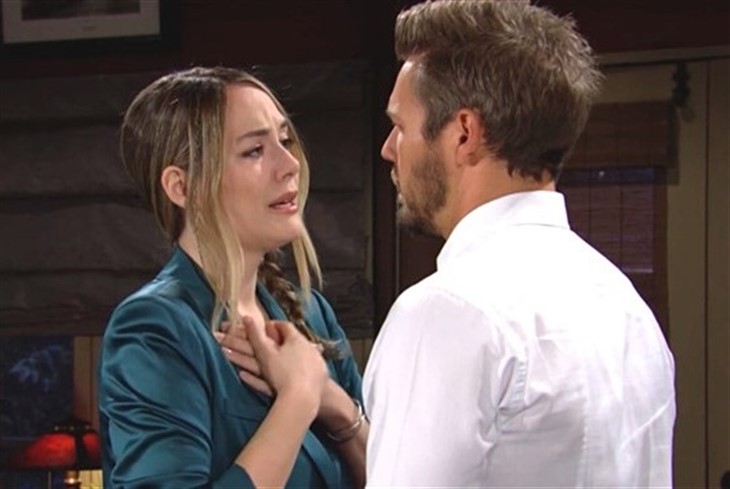 The Bold and the Beautiful (B&B) spoilers for Monday, May 29, 2023, reveal Hope confronting Steffy about opening her big mouth.
The Bold And The Beautiful Spoilers – Hope Logan Is Stunned
Hope Logan Spencer (Annika Noelle) cannot believe her ears when she hears Liam Spencer (Scott Clifton) accuse her of having feelings for Thomas Forrester (Matthew Atkinson). Liam is an angry man mode — or at least a Liam version of angry man mode — as he sits in the dark with a drink in his hand asking his wife to explain. Hope doesn't appreciate being treated like a child but appreciates it less when she hears that Steffy Forrester Finnegan (Jacqueline MacInnes Wood) just planted all these crazy ideas in Liam's head.
Sure, Hope is not happy with Liam right now but she is faithful to him so she doesn't like these accusations coming from her husband. She also doesn't like that he would listen to Steffy of all people. Hope does her best to falsely defend herself and decides that Steffy must be after Liam again. That can be the only explanation for why she would say such a thing.
B&B Spoilers – Steffy Forrester Receives Hope's Wrath
To that end, Hope decides to confront Steffy and order her to never interfere with her marriage again. She has her own marriage to John 'Finn' Finnegan (Tanner Novlan) to focus on and her own family so whatever happens with Hope's marriage should be of no concern to Steffy.
Well, Steffy counters that by saying it's not just Hope and Liam she is worried about. It is Forrester Creations and Thomas. She has to watch what goes on between Hope and Thomas from an HR standpoint, but also worries that her brother will get hurt once again.
She also admits she got tired of listening to Liam whine all the time about how horrible Thomas was when she knows that Thomas isn't the problem here. It's Hope who has feelings for Thoms now and not the other way around. She wasn't going to let Liam turn Thomas into the villain any longer. Will Hope admit what she is feeling or continue living in a state of denial. Stay tuned to The Bold and the Beautiful weekdays to see how these stories play out.