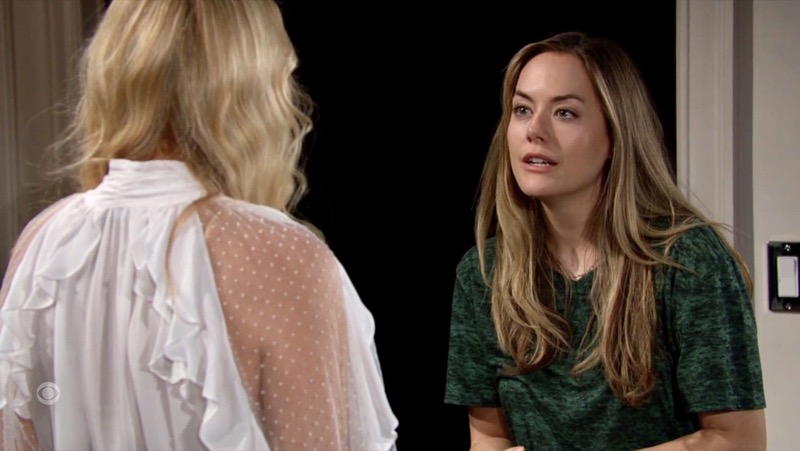 The Bold and the Beautiful (B&B) spoilers document that Hope Spencer (Annika Noelle) strenuously defended her realized romantic connection to Thomas Forrester (Matthew Atkinson). The weirdness of seeing Brooke Logan (Katherine Kelly Lang) standing in the middle of her youngest daughter and Ridge Forrester's (Thorsten Kaye) oldest son was contrasted by another scene at Forrester Creations.
Taylor Hayes (Krista Allen) likes to talk about family business at the Forrester family business. She does not prefer texting or an old-school phone call whenever one of many pressing topics needs to be discussed, including her concerns about Thomas being impacted by whatever comes next with Hope.
Bold And The Beautiful Spoilers – Brooke Logan Stunned And Outraged
Brooke could not believe that her daughter was cavorting with Thomas in his new condominium. But Hope's erratic demeanor in recent months, the condemnation she threw at her mother in the Logan mansion had Brooke unnerved.
Lang's character suspected something was off in Hope's marriage when the referenced disrespectful conversation took place weeks before the trip to Rome, Italy. But the reveal Brooke walked in on was earth-shaking.
Hope's description of what happened between her and Thomas as beautiful but also wrong was not logical. Brooke told Hope she was not making sense, but Noelle's character did not care.
Bold And The Beautiful Spoilers – Talking To The New Pairing Like They Are Children
Brooke thinks of Hope and Thomas as though they are children who never grew up. That was partially the reason she told both of them they would not be having a relationship and what happened would be forgotten.
Hope is not going to heed her mother's order this far down the daytime road. Hope used Liam Spencer's (Scott Clifton) decision to call for a divorce as justification for being with Thomas.
As for Atkinson's character, Brooke did not lay into him as she normally would have. Her back was turned to Thomas during much of the confrontation because Hope was identified as the perpetrator.
Bold And The Beautiful Spoilers – Ridge Forrester Overlooks Reality Again
Ridge dismissed or buried Thomas' behavior for years. In more recent years Taylor was not in town. So, Ridge assumed both parental roles and was lax with disciplining Thomas, reducing his son's mental health issues to matters that could be willed or wished away.
Taylor's role as Thomas' mother and her vocation as a psychiatrist allow her to see what Ridge either can not. She is concerned that whatever feelings were stirred in Rome will eventually jeopardize the progress their son made this year.
Thomas' achieved stability is something Hope admires. His reformation is one element that drew her attention since he was restored as her lead designer.
But Taylor's concerns are real as Ridge and everyone who is not looking past today in this version of Los Angeles, California, will see on B&B.
This site is a leading source for everything linked to The Bold and the Beautiful. Check back regularly for B&B spoilers and news!