B&B Spoilers: Eric's Condition Gets Worse
The Bold and the Beautiful (B&B) spoilers for Tuesday, October 2, 2023, reveal Donna having to hide more secrets about Eric.
The Bold And The Beautiful Spoilers Highlights
Donna Logan (Jennifer Garies) can tell there is much more going on with Eric Forrester (John McCook) than meets the eye and is anxious about an upcoming doctor's appointment where they are about to learn more. This has to be something beyond arthritis.
 B&B Spoilers – Donna Logan Is terrified
However, she has to still keep the arthritis a secret and has a hard time when she is talking to Katie Logan (Heather Tom) about the fashion war between Eric and Ridge Forrester (Thorsten Kaye).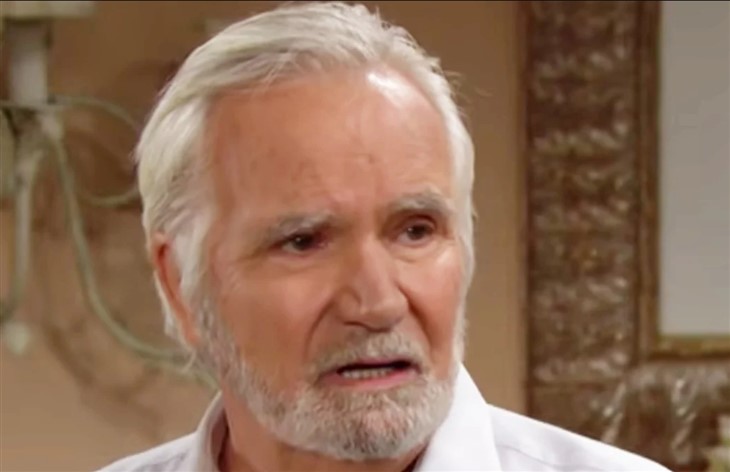 She almost has a slip of the tongue that would alarm Katie, but she pulls back and tells more lies to cover for Eric.
She knows she can't keep doing this as Eric's condition is deteriorating but she made a promise and is determined to keep it.
When Eric sees the doctor things go from bad to worse, especially when Donna realizes that Eric is hiding even more from her.
Can things really be that bad? Arthritis is manageable but Donna knows Eric is getting older and with age come health problems that sometimes can't be managed.
The Bold And The Beautiful Spoilers – RJ Forrester Makes A Confession
RJ Forrester feels as confused as Donna as to what is really happening to his grandfather. It has to be more than just some hand tremors and he needs to finally confide in someone so he chooses new intern Luna.
Luna acts sympathetic towards RJ's plight, but we all know something more is going on with her as she had that mysterious phone call the day she arrived.
She has some connection to the Forresters so she might not be right person for RJ to decide to tell family secrets to. Or maybe RJ is part of his secret.
It also could be time that that RJ goes to Ridge about what has been going on. Ridge will stop the fashion war right away since his gut has been telling him there is a serious problem with Eric and Ridge will want to do nothing but try to help him.
Stay tuned to The Bold and the Beautiful weekdays to see how these stories play out.