90 Day Fiance Star Angela Deem Denies She Has Been Fired By TLC
90 Day Fiance fans heard that some bloggers claim Angela Deem was fired. Quite when it happened, if it happened, isn't clear.
Anyway, the feisty old lady is denying it with some vehemence. So, what's actually going on with Michael's lover? Read on to find out.
90 Day Fiancé Spoilers – Angela Deem Got Into A Big Fight
Rumors arrived that Angela had attacked an employee at a hotel. However, it turned out that she got into a physical fight with her friend, Jennifer Dilandro of Dolce Aesthetics.
Reportedly, on the way back to the hotel in a shared cab, things got bad. Apparently, they had been with other people at Reality Lip Sync before the bust-up. Anyway, a hotel employee did intervene and the cops later arrived.
90 Day Fiance fans think that as a result of her behavior, she might have been fired. Anyway, whether it was because of that or some other reason, bloggers started talking about her dismissal.
Many people felt that it was about time the network took action. Next, John Yates mentioned it, and she got quite aggressive on his Instagram. Actually, that is usual, as he's usually very supportive of her on his own blog.
90 Day Fiancé Spoilers – The Conversation About Angela Being Fired
When John Yates found a page that was talking about Angela Deem being fired, he screenshot it. In that conversation, Angela had replied, saying that it was "FAKE NEWS." In his own caption, John wrote, "It seems that bloggers are saying that @deemangela has been "officially" fired from TLC – Angela says otherwise. #90DayFiance."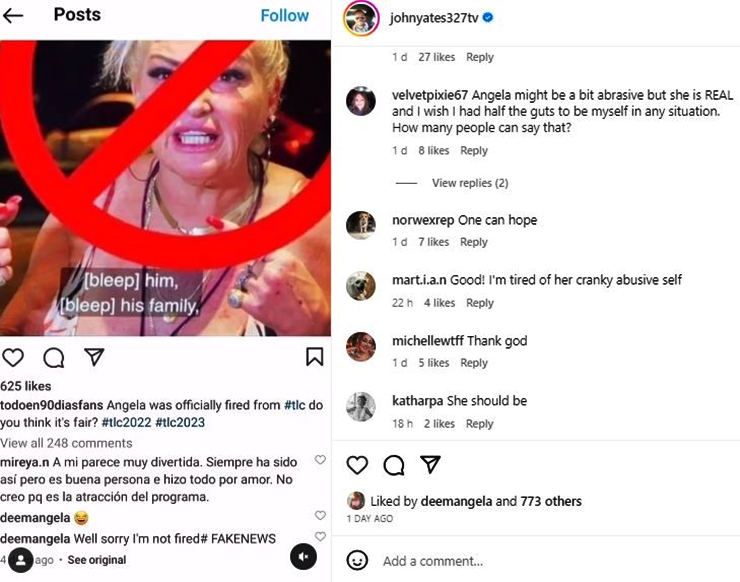 For some reason, the 90 Day Fiance star replied to John, saying, "This is IRRELEVANT." Lots of caps are being used there so clearly she's not a happy camper. Naturally, TLC fans reacted to her denials, and a lot of them seem to be disappointed that it's apparently not true that she was fired. Lots of people claimed they are tired of TLC giving screentime to a "bully." 
90 Day Fiancé Spoilers – TLC Fans React To Angela Deem's Denial
Some 90 Day Fiance fans like that Angela lives her life her way. Notably, many of them are older viewers. However, younger people seem fed up with her. One of them wrote, "ur irrelevant. Don'tcha see that?? Toxic to society ur. Be gone ?."
Another one said, 'fighting at your age is classless an trashy at it's finest ?sh-t!"
Similar comments followed like this one: "You are physically abusive to your friends, family, and partners…You deserve to be off the air for being an abusive bully."
What are your thoughts? Sound off in the comments below.
Be sure to catch up on everything happening with the TLC cast right now. Come back here often for 90 Day Fiancé spoilers, news, and updates.