The Bold And The Beautiful Spoilers: Jacqueline MacInnes Wood Goes Inside Steffy's Despair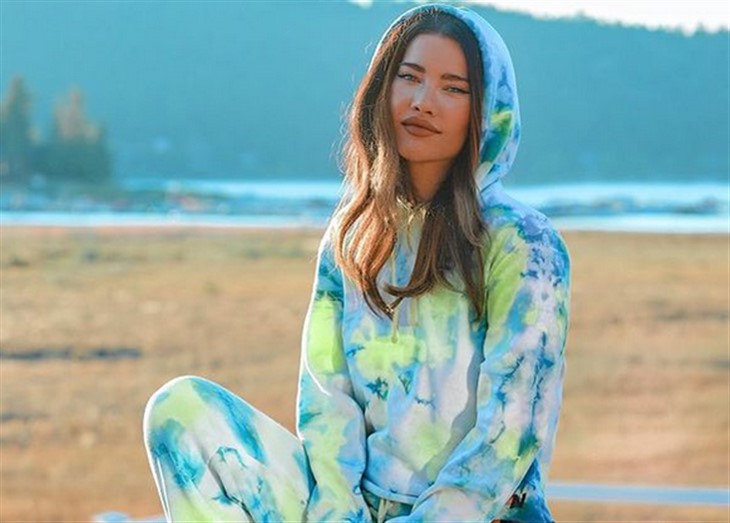 The Bold and the Beautiful spoilers reveal Steffy doing worse than anyone thinks as she grieves a husband who isn't actually dead.
The Bold And The Beautiful Spoilers – Parents To The Rescue?
The week starts with Ridge Forrester (Thorsten Kaye) and Taylor Hayes (Krista Allen) deciding to hop a plane to Monte Carlo to make sure Steffy Forrester (Jacqueline MacInnes Wood) is all right. They had been trying to reach her for days on end and finally got a call that she was in a mental health facility because she just couldn't deal with her grief and trauma alone and felt the need to go back to popping pills to ease her pain.
Little does Steffy know that her husband is really alive and trying to get away from his absolutely insane biological mother. At least his real mother is with Bill Spencer (Don Diamont)now and might be able to tell Bill the truth about Sheila Carter (Kimberlin Brown) and John 'Finn' Finnegan (Tanner Novlan) soon.
B&B Spoilers – Steffy Forrester's Sadness Is Overwhelming
In location scenes shot in June, we get to see Steffy grieving and dealing with her pain alone and with her parents. And this just might be where she ends up reuniting with Finn, but not just yet.
"Steffy is depressed," Jacqueline MacInnes Wood said in the August 2, 2022, issue of Soap Opera Digest. "She can't get over Finn's sudden and shocking death and to know it was at the hands of Sheila. Steffy learned from her opioid addiction to seek help when she needs it. Above all else, she's got to be able to take care of Steffy and Hayes."
These scenes will also mark Wood's return to the B&B fold after yet another maternity leave after the actress gave birth to her third son in as many years. In fact, the only reason Steffy was sent away was to accommodate Woods' leave, but now she is back and still thinking about Finn.
"Steffy feels so fortunate to have had such a solid true love for Finn," Wood said. "She thought she'd never have that with anyone but Liam. Finn was so good to Steffy. He always put her and the children first and protected her, obviously with his life."
Well, he didn't lose his life and is in LA fighting to get it back, but that means also fighting Sheila so that fans can get the Steffy and Finn reunion they have been waiting for since April. Stay tuned to The Bold and the Beautiful weekdays to see how this story plays out."