General Hospital Spoilers: Is It Over Forever Between Sonny And Michael?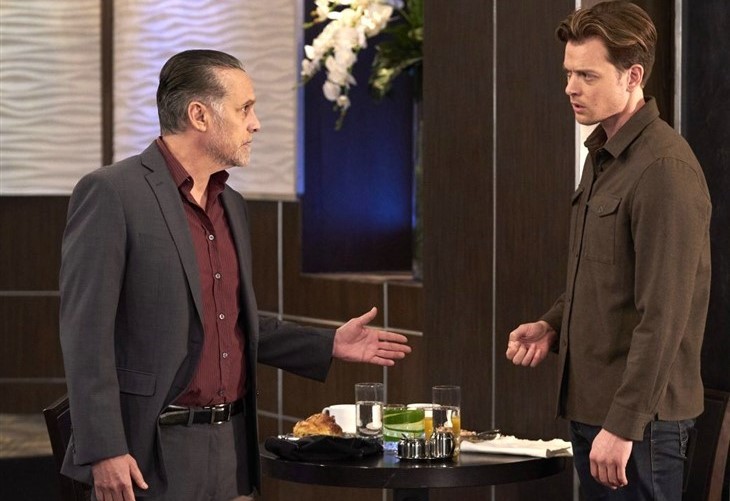 General Hospital spoilers and updates tease that it may not be over forever between Sonny and Michael Corinthos (Maurice Benard, Chad Duell)! At least not according to a recent Instagram post by GH star Maurice Benard!
General Hospital Spoilers – ET, Come Home!
The Instagram post itself has Maurice in character, talking to Michael and saying that people are always asking him if Sonny and Michael are ever going to get back together. He says Sonny loves Michael, and there's nothing he would love more than a beautiful reunion! However, the "Michael" he seems to be addressing is strangely reminiscent of "ET" or perhaps the alien in the "Alien Autopsy" documentary Jonathan Frakes, Genie Francis' husband hosted!
There is also a sign over the table where "ET Michael" lies saying "Area 51" so it really makes you wonder-Maurice has many pets including Buddy The Goat! But no one has heard him mention a pet alien named Michael; and Sonny crying out, "ET Michael, come home?!"
GH Spoilers – Michael Corinthos Has Had Feuds With Sonny Corinthos Before
To longtime viewers, it would seem that being a Quartermaine has gone to Michael's head; Sonny adopted Michael when he was a small child and raised him as his son. AJ Quartermaine, (Sean Kanan) his birth father barely knew him or had anything to do with him. It was his uncle, Jason Morgan (Steve Burton) who took care of him during his mother's post-partum depression when Carly Corinthos (Laura Wright) couldn't care for him. The last time that Michael had a feud with Sonny was when he was set up by Ava Jerome, now Cassadine (Maura West) to kill AJ. Michael was so angry when he was just getting to know his birth father for Sonny to kill him, he changed his name to Quartermaine!
General Hospital Spoilers – There Is A Vast Emotional Distance Between The Two Now
There is a vast emotional distance between Michael and Sonny, the father who raised him now; he may as well be an ET in outer space while Sonny's on earth! Perhaps that was the point of Maurice's wry humor in talking to a rubber alien laying on a table with an Area 51 sign over it and calling it "Michael"! If Jason were to by some miracle return alive, he'd be the only one who could get father and son together now, and mend their rift. But even that's not for sure, because when Jason left, Sonny was rather upset that Jason and Carly's marriage was going to be real, walking in on their wedding night! This time, it will take more than Jason to mend the light years sized rift between Michael and Sonny!
GH Spoilers – It Won't Be For Sonny Corinthos' Lack Of Trying If The Rift Is Not Healed
If the rift between Sonny and Michael is never healed, it won't be for Sonny's lack of trying, although right now it seems they're at a stalemate! Dante Falconeri (Dominic Zamprogna) has been trying to intercede between the two; but Michael has such a case of hate and revenge it hasn't done much good! Worse yet, Carly's been encouraging it and making advances on Drew Cain (Cameron Mathison) who refuses to be her Jason replacement! He's in a bad spot as Michael's uncle to try and stop him as well – he just wants out of the middle of it!
Be sure to catch up on everything happening with GH right now. Come back here often for General Hospital spoilers, news, and updates.