Days Of Our Lives News Update: Brandon Barash Back On The DOOL Set and Kicking Butt
NBC Days of our Lives spoilers tease that Brandon Barash, who plays Jake Lambert on the NBC sudser, is thrilled to be back on the Salem set. The Los Angeles show shut down recently after resuming production in early September following the coronavirus pandemic.
The show had enough episodes taped that it never ran out of original content like the other three American soaps, The Young and the Restless, The Bold and the Beautiful, and Days of our Lives. This allowed DOOL to resume production much later than the other daytime dramas, and learn from the example set by the first soap back, B&B.
Unfortunately, DOOL had someone on set test positive for coronavirus, and the production was shut down per COVID safety guidelines.
Days Of Our Lives News Updates
We're happy to report that the quarantine period is now over and based on Barash's recent Insta post, things are back to normal. He posted a pic of himself in what looks to be his dressing room and he captioned it: "Aaaaaand we're out of quarantine — back kicking it in Salem. #dool #days #jake."
His pic shows the handsome and talented star in the middle of an action pose and we hope the camera didn't break! He is kicking his heel up in the air and he has a fierce look on his face as one of his hands takes a defensive posture. Needless to say, Brandon is as gorgeous as ever in a merlot colored sweater and jeans.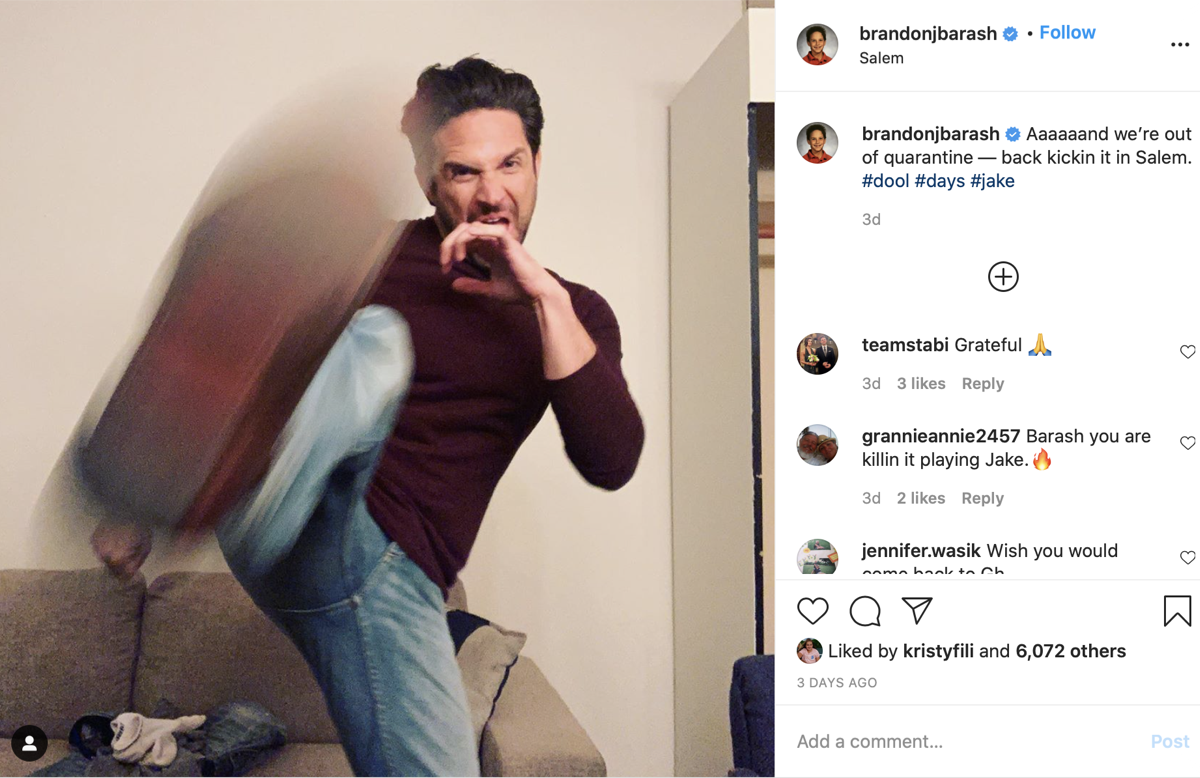 Brandon Barash's Fans Love His Social Media Posts
His fans loved his exuberant photo with one writing, "Barash you are killing it playing Jake.🔥."
Another posted, "You look like Wolverine," while one said, "Want u and Gabi back!! Power Couple!!!!!!" Another fan shared, "So happy you guys are back on stage. You continue to amaze me with your performances, B. 🙌🏼."
Brandon Barash Plays Jake Lambert On The NBC Sudser
As one fan alluded to, plenty of DOOL viewers are waiting with bated breath for Gabi Hernandez (Camila Banus) to return to Salem so that she and Jake can pick up where they left off.
They had sizzle to spare but in the meantime, he could be about to foil a huge plot against Abigail DiMera (Marci Miller). His ex Gwen Rizczech (Emily O'Brien) wants her dead, but will Jake save the day?
Be sure to catch up on everything happening with DOOL right now. Come back here often for Days of our Lives spoilers, news, and updates.