The Young And The Restless Spoilers: Wednesday, June 19 – Victor Throws Adam Out – Cane Asks Traci On A Date – Michael Issues A Threat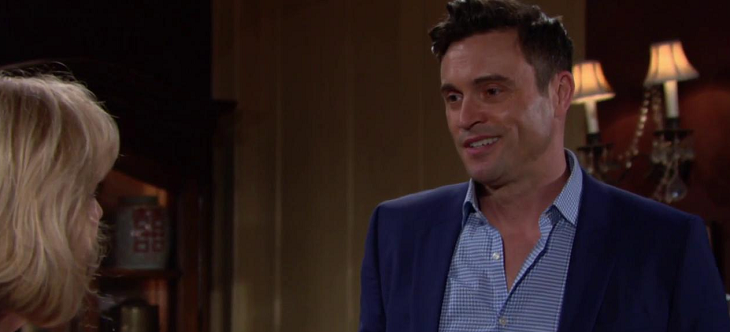 The Young and the Restless (Y&R)  spoilers for Wednesday, June 19, tease that Nikki Newman (Melody Thomas Scott) will find Victor Newman (Eric Braeden) at the office with Nate Hastings (Sean Dominic), and there will be no change in Victor's health. After Nate leaves, Victor and Nikki will discuss Nick Newman's (Joshua Morrow) custody fight with Adam Newman (Mark Grossman), and Nikki will tell Victor to let Nick know that he supports him in the dispute.
Next on Y&R, at Dark Horse, Michael Baldwin (Christian LeBlanc) will visit Adam and tell him to leave Kevin Fisher (Greg Rikaart) alone. The men will spar, and Michael will feel that Adam is threatening him, so he'll warn that his mind can go to places as dark and twisted as Adam's. Adam will say that Kevin had better do his job, to which Michael will say "don't say I didn't warn you."
Y&R Spoilers– Cane Asks Traci On A Dat
e
Meanwhile, Traci Abbott (Beth Maitland) and Cane Ashby (Daniel Goddard) will chat at Society when Cane gets a call from Lily Winters (Christel Khalil), who will say that she's not coming for the upcoming dedication to Neil Winters (Kristoff St. John). Meanwhile, Abby Newman (Melissa Ordway) will chill out Nate since he didn't tell her about Victor's illness until she finally relents and agrees to go to the dedication ceremony with him.
Next on Y&R, at the Abbott estate, Traci will continue to write her novel with some fun black-and-white scenes of "Flynn" (the character based on Cane) being rescued by the characters that are based on Lily and Traci. Afterward, Cane will arrive to ask Traci to accompany him to Neil's dedication ceremony and she'll happily accept.
Young And Restless Spoilers– Victor Turns His Back On Adam
At Crimson Lights, Paul Williams (Doug Davidson) and Nikki will argue about Victor's lawsuit against the police department, and Paul will upset Nikki with his opinion about the suit. Later, he'll find her in Chancellor Park and apologize. Nikki will break down and Paul will learn about Victor's blood disease. He'll hold her as she cries, and he'll comfort his friend.
FEELS LIKE HOME!!! @TheRealStafford @MClaireEgan @gregrikaart @YandR_CBS @YRInsider @cbsdaytime #YR #TEAMYR pic.twitter.com/QpvPPy1W5L

— Christian Le Blanc (@CJLeBlanc) June 18, 2019
Next on Y&R, Victor will arrive at the tack house to see Adam and to order him to drop the custody suit against Nick. Victor will say that it's wrong to try to take Christian Newman (Jamie and Alister Tobias) from the only father he's ever known. But Adam will fire back that Victor also sued Nick for custody, and the men will argue heatedly.
Finally, on Wednesday's new episode of Y&R, Victor will blast Adam for what he's doing and will state that he should have left Adam in Las Vegas since he likes the role of outsider. Victor will say that he'll let Adam be an outsider and will order him off of his property and out of the tack house.
Soap Opera Spy is a leading source for everything linked to The Young and the Restless. Check back regularly for Y&R spoilers and news! As always, more detailed Spoilers and Breaking news will appear here on Soap Opera Spy.