General Hospital Spoilers: The DNA Test Results Are In!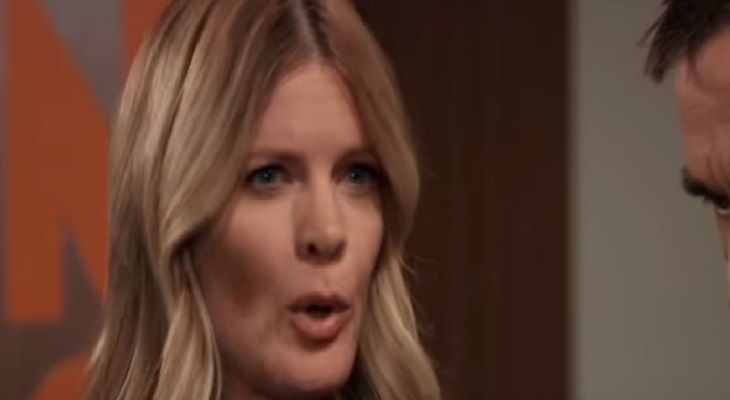 General Hospital spoilers tease that now that the results of the DNA test that Maxie Jones and Peter August (Kirsten Storms, Wes Ramsey) are back from the General Hospital lab, the first place they go with them is to confront Valentin Cassadine, (James Patrick Stuart), Nina Reeves, (Michelle Stafford) and Sasha Gilmore (Sofia Mattson). In a new General Hospital promo, "The DNA Test", Maxie and Peter corral Valentin, Nina and Sasha at the Metro Court.
According to General Hospital spoilers, Nina asks Maxie and Peter what they are up to, because Valentin had warned her they were up to something. Maxie tells her that they had another DNA test run on her and Sasha to make sure they were really mother and daughter, as Valentin and Sasha frown in the background.
General Hospital Spoilers – Nina Demands Answers
Nina wants to know why would they run another DNA test, and says it was an exercise in futility to prove something that had already been proven, and continues to say Sasha is really her daughter.
Nina grabs the results as Sasha looks nervously at Valentin – and, lo and behold, the results do say that Nina and Sasha are really mother and daughter! Valentin steps in at that point and asks if anyone really is surprised at the results, considering he had Curtis Ashford (Donnell Turner) run two separate DNA tests at two separate labs, and asks if Maxie really thinks that he wouldn't make sure Sasha was really Nina's before he told her? Nina breaks in, and also mentions Curtis wouldn't tell her Sasha was her daughter if she weren't!
LOVE GH?  SUBSCRIBE TO OUR GENERAL HOSPITAL NEWSLETTER, HERE
General Hospital Spoilers – Sasha And Valentin Are Flirting With Disaster
Maxie, humbly tells them she owes them an apology, and Sasha interrupts, telling Maxie she doesn't have to apologize to her; she knows she cares about Nina and had her best interests at heart. General Hospital spoilers show Nina asks again why Maxie would question that Sasha was her daughter, and Peter breaks in and explains that they had reasons to be suspicious about the original tests, because he had found out that Liesl Obrecht (Kathleen Gati) had something she was holding over Valentin.
Join us on Tuesday (April 2nd) for a very special episode that celebrates the history and legacies of #GH. Don't miss out! #GH56 pic.twitter.com/0UAHUCvIg7

— General Hospital (@GeneralHospital) March 28, 2019
Valentin managed to smooth things over this time on General Hospital, but the truth could still come out in spite of his efforts; Sasha is starting to feel guilty and nearly spilled the beans to Nina already! Stay tuned to General Hospital and keep checking General Hospital spoilers frequently for all the latest news, updates and spoilers!
As always, more detailed spoilers and a full collection of pictures for the week in question will appear here on Soap Opera Spy, where there will be more clues and hints over exactly what's going on.
General Hospital airs weekdays on the ABC network.
---
Read more news, spoilers, and gossip on our General Hospital homepage
Want up-to-the-minute soaps news, spoilers, and gossip on your social feeds? Just hit 'Like' on our Soap Opera Spy Facebook page.