The Young and the Restless (YR) Spoilers: Tessa's Adventure in Canada – Mariah Rightfully Worried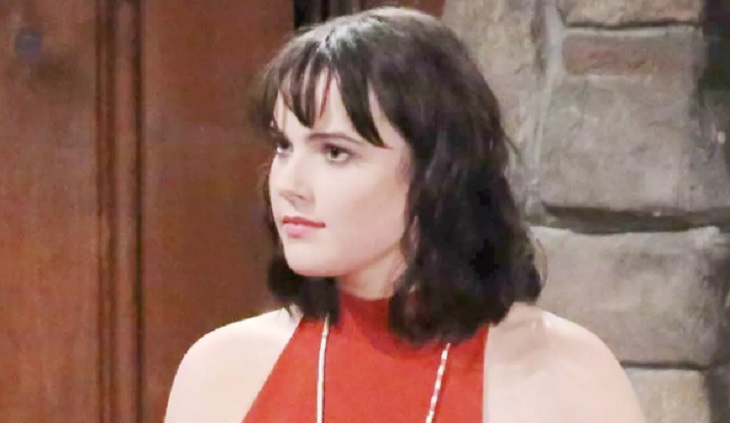 Tessa (Cait Fairbanks) was trying to help her sister get settled in a safe location on 'The Young and the Restless'. But something went wrong while she was helping Crystal (Morgan Obenreder) in Canada.
Mariah (Camryn Grimes) didn't learn exactly where Tessa was. Miss Porter could have been on Rue de Bleury in Montreal, Quebec, Cambie Street in Vancouver, British Columbia, or St. Mary's Road in Winnipeg, Manitoba. Wherever the location one plot point was clear, this solid actor's photo hasn't been taken off Y&R's cast page. As Fairbanks recently advised fans via social media, she isn't going anywhere.
It appeared as though Tessa was leaving Genoa City. She said as much last month, as Crystal's safety needed to be addressed. But the call Mariah received while she was at the Genoa City Athletic Club frightened her. Intended purely as a reach-out to update Mariah on her progress, Tessa then began speaking to an unknown party who interrupted the conversation and appeared to put her in danger.
Hardcore fans knew last year's storyline was being mined to possibly create an exit for Porter's character. Instead, this plot path is merely an extension of an overall arc that involves the shelved singer who Devon (Bryton James) allowed to stay on at Hamilton Winters in an administrative assistant capacity.
Mariah decided against leaving town with Tessa. The original plan was for Grimes' second Y&R character to do so without saying anything to anyone, most importantly her mother.
LOVE Y&R? SUBSCRIBE TO OUR THE YOUNG & THE RESTLESS NEWSLETTER, HERE!
Sharon (Sharon Case) would have been devastated to learn that her discovered twin daughter (as of 2014) made such a significant life decision without seeking any input, or offering the courtesy of a goodbye. Thankfully, Mariah didn't follow her first impulse. Hilary's (Mishael Morgan) death played heavily into that change of mind. However, Mariah will have to more fully explain why she even intended to skip town, as Sharon would surely have supported her in any way possible.
Tessa's Canadian plight provides a nearing end of the summer season adventure. This emerging storyline is serving to refocus this portion of Y&R's scripts on Fairbanks and Grimes, which should prove intriguing.
Soap Opera Spy is a leading source for everything linked to 'The Young and the Restless'.
As always, more detailed spoilers and a full collection of pictures for the week in question will appear here on Soap Opera Spy, where there will be more clues and hints over exactly what's going on.
Soap Opera Spy is a leading source for everything linked to 'The Young and the Restless'.
Read more news, spoilers, and gossip on our Young & Restless homepage
Want up-to-the-minute soaps news, spoilers, and gossip on your social feeds? Just hit 'Like' on our Soap Opera Spy Facebook page and 'Follow' on our @soapoperaspy